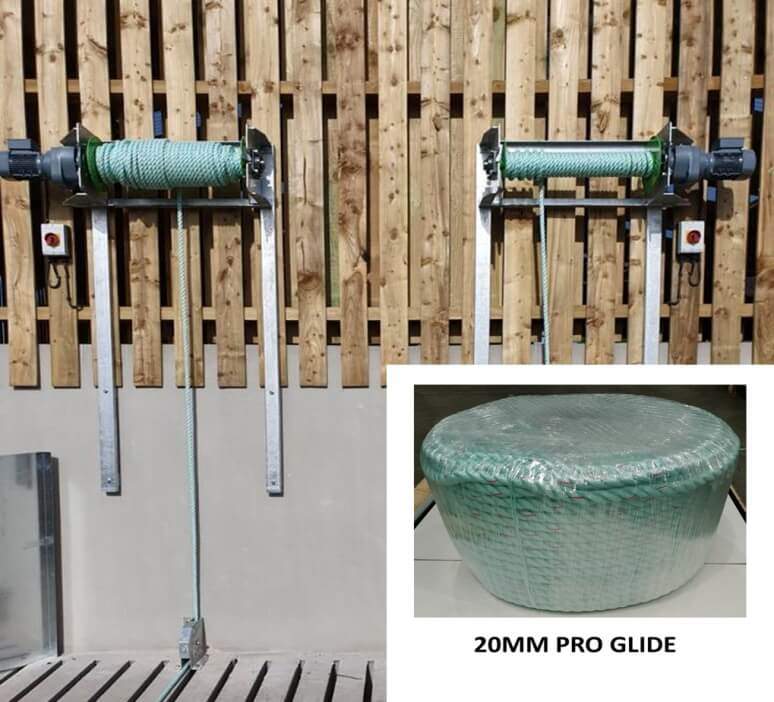 Trojan Rope Scraper for Sand Bedding Installations
For many years we avoided the Rope Scraper for Sand installations, due to the documented high failure rate of Chain and Hydraulic systems in this application.  In 2009 we carried out a R&D project to assess the viability of creating the first UK built system, designed primarily for sand.
The result of this R&D was the introduction of the Trojan Rope Scraper for Sand.
Our main remit was to create a simple yet hard-wearing system that can be maintained by the customer. After two years of tireless on-farm trial work, both performance results and farmer feedback indicated that it was a resounding success.
The Trojan Sand system utilises the tried and tested drive units from our Rope Scraper, powered by 0.55kw geared motors.
Due to the increased wear from the sand, the Trojan Sand System uses Pro-Glide. This rope offers a more cost effective solution to the customer.  As standard we expect the system to require new pull rope every 4000 scrape cycles with back ropes lasting around 6000 scrapes.
Key benefits of Pro-Glide
Excellent resistance to sand
No adverse effect on cows feet
Cost effective replacement cost
In all sand applications we prefer to install wall mounted drive units. This reduces the contact between the winch equipment and the highly aggressive sand  thus increasing service life.
Scraper options
Opti-Clean HDS solid passage scraper – fitted with sand wear plates.