Advantages of high levels of light
Milk production can increase by 6% to 14% if the days are lengthened and supplemented at a light level equal to daylight;
The cows are more active and fertile for extended periods when exposed to longer days;
Cattle with fertile periods that return faster, can lead to reduced calving index;
Light intensity, daylight hours and the colour of light all influence animal behaviour.   The correct balance of these three factors have a positive effect on the livestock.  Research has shown that this combination makes a substantial, positive contribution to the health, welfare and productivity of your herd.
Probably the most well known phenomenon concerning lighting is that it controls hormone management in dairy cattle and so has a positive influence on milk production. Less well known advantages of managed lighting is longer, stronger heats resulting in better heat detection and reduced calving intervals, and the fact that illnesses can be spotted earlier.
Having between 16-18 hours of light at an average of 180-200 lux with a minimum light level of 150 lux within the building, and darkness for the remaining 6-8 hours will provide the positive benefits mentioned.
During the hours of darkness a monochromatic red light or dimming is used to allow the herdsman to carry out his rounds and observe the cattle. The red light or dimmed light has no effect on the cows metabolism or sleep pattern.
This light regime is good for both lactating cows and young stock.  In contrast to this, dry cows get greater benefits from a regime that is the reverse of the forementioned with 8 hours of light and 16 hours of darkness.  This helps maximise milk yield as the cow moves from one light regime to the other after calving.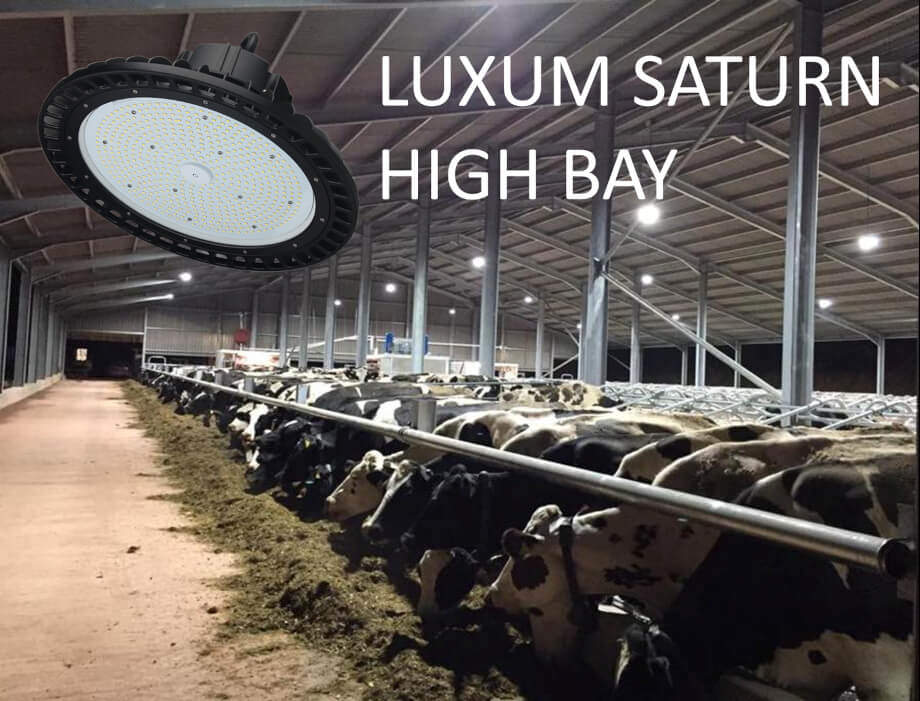 Luxum Led Solutions is our preferred partner for Led Lighting.
Luxum Led stock a range of lighting products for a variety of applications and have a wealth of lighting knowledge, catering for general farm lighting, especially for dairy farming.
or
HOW DOES INCREASED EXPOSURE TO LIGHT AFFECT YOUR DAIRY HERD?
Agrilight b.v. has developed a series of optimised fixtures for different types of livestock, the AL2007 series.
The AL2007 series of fixtures has been specially developed to provide lighting in livestock housing up to 24 metres wide, from just 1 row of lights positioned in the centre of the house. The use of just 1 row of fixtures means lower annual costs for installation and maintenance compared with conventional lighting.
The AL2007 can be used to light all types of livestock housing, storage areas and agricultural buildings. The AL2007 is available with a High Pressure Sodium or Metal Halide lamp in 250 and 400 watt models. A special dimmable 70 watt model is available for poultry.
Agrilight® supplies all the accessories required for the AL2007.
Exceptional heat management
The housing of these fixtures is manufactured mainly from aluminium. Aluminium was chosen because it contributes to the exceptional heat management of these fixtures, which in turn ensures that the components used have a long service life. Stainless steel is used for components with a screw thread and for suspended parts.
Low installation and maintenance costs 
These fixtures have an intelligent click system for the installation brackets on the top, saving a lot of time and manpower during installation. Louvres on the rear of the fixture provide additional air circulation on all sides. In conjunction with the rounded top, this means that dirt is less likely to stick to the fixture.
Optimum light distribution 
The integral spirit level ensures that it is very easy to install the fixtures horizontally, guaranteeing optimum light intensity and distribution.
Head Office
Cowcare Systems Ltd
24 Drumlee Road, Ballymoney, BT53 7LE
Please note the office is staffed Monday to Friday 9:00am to 1:30pm
Office: 028 2766 9000
John Sharkey – 077323 48225
info@cowcaresystems.com
---
Regional Sales Teams
---
Northern Ireland/Ireland
Andrew Lyons – 07803124235
andrew@cowcaresystems.com
---
Scotland and Northern England
Will Robertson – 07591833853
will@cowcaresystems.com
---
Wales/Midlands and Southern England
Fred Allen – 07762800149
fred@cowcaresystems.com
---
European and Worldwide Sales
John Sharkey – 077323 48225
info@cowcaresystems.com
Please contact one of the above or fill out this form.